How would you like it if you were allowed to download all Add-Ons and even Builds in a single place? With numerous Repositories available for Kodi, Wouldn't you love it? With the existence of the Kodi Bae, it is very much possible, and you would love it. In this article, you are going to see an easy step-by-step solution for Kodi Bae Repository installation.
What is Kodi Bae Repository?
Let's know what is Kodi Repository first. Repo is a Package where you find several Add-Ons of Kodi all in one place. Hence of installing separate Kodi Add-Ons, you could just install a Repo which contains your Preferred Add-Ons. Kodi Bae Repository is one of the incredible Repositories available within the Kodi app. It has a humungous collection of Video Add-Ons like Seren, Exodus, cCloud TV, SportsDevil, Release Hub, etc.
This repository houses some popular Kodi Add-ons up to date and lets you stream Movies, Shows, and Sports with these available Add-Ons. Kodi Bae Repo works just fine with Firestick, Windows, Android TV Box, Mac, etc. This repo is maintained by Lazy Kodi, which gives regular updates. It is a Third-Party repository.
Read How to Download and Install Misfit Mods Build on Kodi
Prerequisite to Install Kodi Bae Repository:
To begin with, "Turn On" is the unknown source to allow third-party applications.
1. Open Kodi on your device and go to the Home Screen of Kodi.
2. On the top left corner of the screen, Go to the cog-like "Settings" tab and toggle Unknown sources.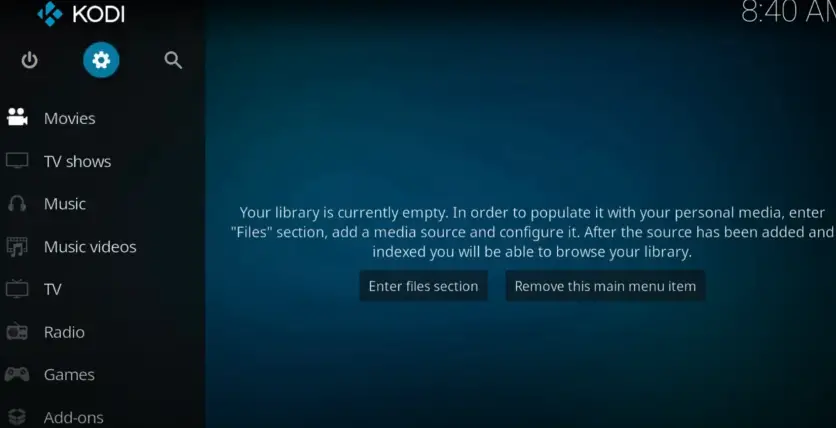 3. Next to the Profiles option, Click "System" and choose "Add Ons." Now  Turn on the "Unknown Sources" below the Show Notification tab.
4. Hover back to the Previous screen of your Kodi; you will find "Add ons" below the Power Savings option.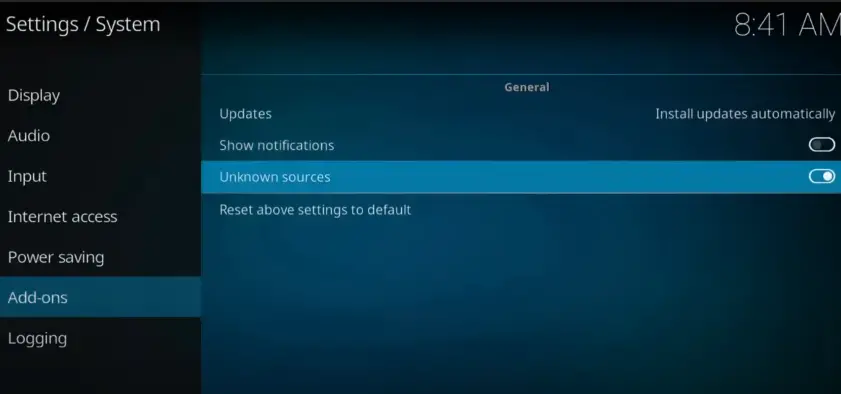 5. You will get a pop-up warning window on your screen to access personal data. Click Yes.
How to Download & Install Kodi Bae Repository?
So, the pre-requisition process for the Kodi Bae Repository has been completed. And now, we have to initiate the Download process of the Kodi the Bae Repository. The download process and the step-by-step guide is given in the following portion on this topic.
1. Scroll over to "Settings" on your Kodi Home Screen.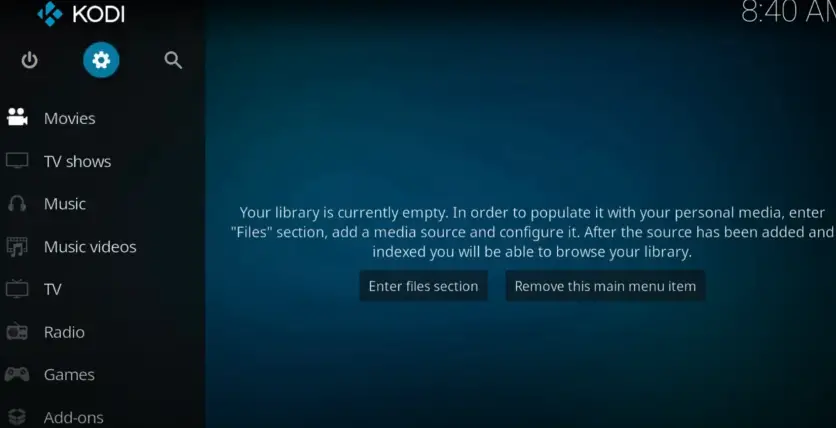 2. Hover over the "Systems" and click "File Manager" next to the event log.
2. Then click the "Add FileSources" tab, and in that, click none.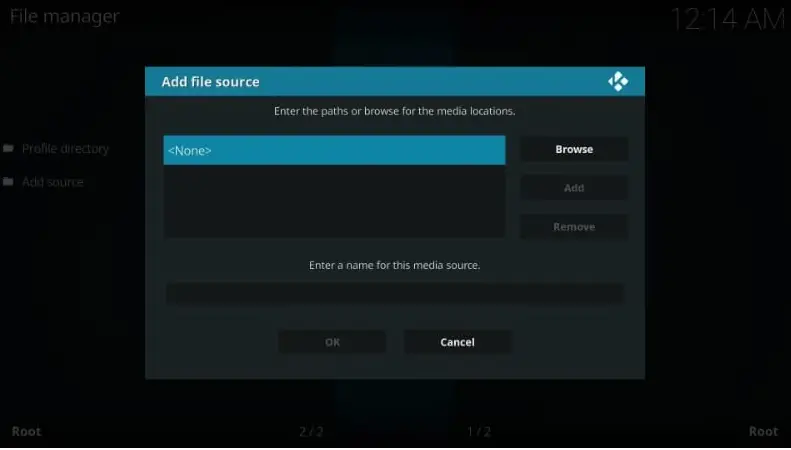 3. Type the address in the Address bar and Name in the Name bar as "Bae" and Click ok.
4. On the Home Screen of your device, Click on the "Package icon" in the top left corner of your screen.
5. In the next menu, click "Install from zip file" under the Add-Ons menu.
6. From the pop-up, choose your File "Bae," the name given.
7. From the next pop-up screen options, choose "KodiBae.zip." Make sure you choose the latest version of the Seren Add-On.
8. Your "Kodi Bae Repository" add-on will start installing. Wait for some time.
9. Again, go to the "Add On" menu and select "Install from Repository" below the Recently Updated tab.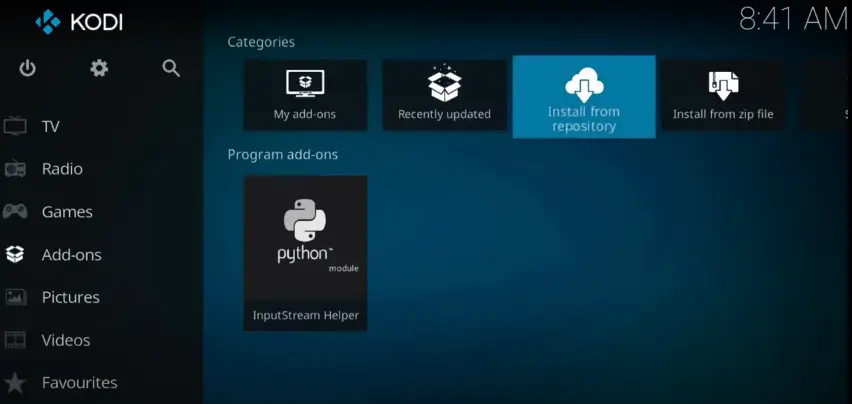 10. From the already added repository, choose the required app below all Kodi Add-On Repositories.
11. You will see the "Video Add-Ons" option below the Services tab. Select it.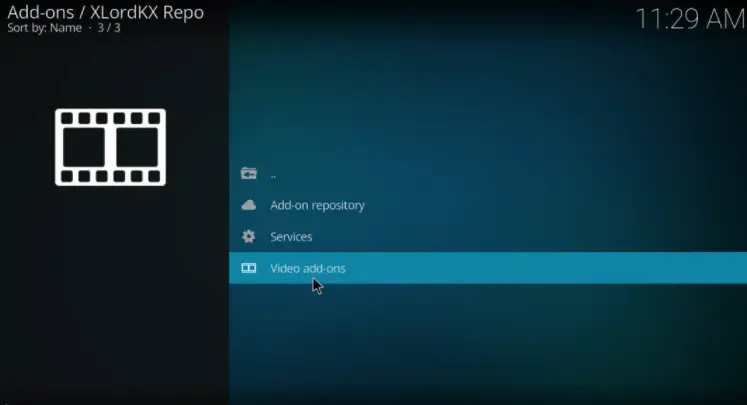 12. Now, Go to Video Add-Ons and install your desired Kodi Add-Ons.
That's it, and you have now successfully installed the chosen third-party streaming service. This installation should work fine. If it does not work properly, Try updating the Build, Add-On, and Kodi.
Note:
"Kodi Bae Repository has stopped working, you could try installing other alternatives of this repo on Kodi."
Is VPN Needed?
It masks your IP Address, and also, VPN on Kodi Bae protects you from a Phishing attack. The purpose of using a VPN in Kodi Bae Repo is to hinder attacks like DOS. Hence using a VPN is a great choice.
Similar Post Install Ultimate Whitecream Add-on on Kodi
How to Install Add-ons from Kodi Bae Repository?
As mentioned earlier, Kodi Bae Repository is one of the best Repositories due to its solid package of Add-Ons available like Seren, cCloud TV, etc.
Here let us see how to install the cCloud TV Add-On from Kodi Bae Repository.
Let's get started…
Launch Kodi on your device.
Hover to "Install from Repository" next to Recently updated on the Kodi screen.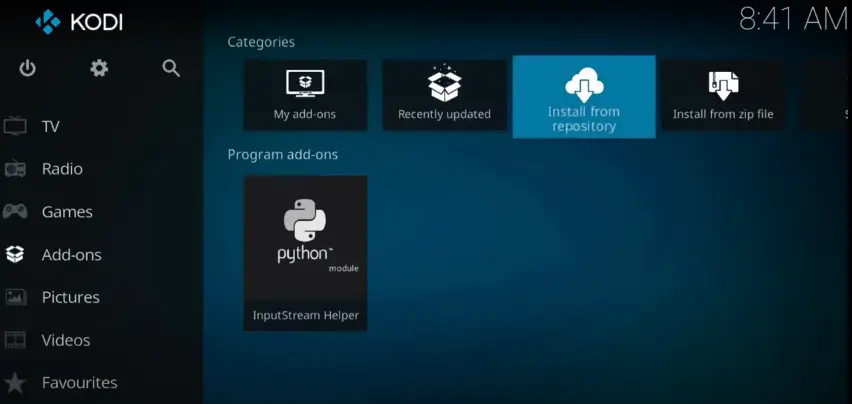 Choose "Kodi Bae Repository" between All repositories and the Kodi Add-On repository.
On the next screen, click "Video Add-Ons" below the subtitles option.
Click the "cCloud TV" Video Add-On from the list of available Add-ons from the Kodi Bae.
Give the "Install" option to install the cCloud TV Add-On; the installation will take a minute or two.
That's it; you have successfully installed the cCloud TV Kodi Add-On.
Related Post How to Install Covenant Add-On on Kodi
Wrapping Up:
Enjoy streaming your favorite shows in High Definition quality, and You have now successfully installed Kodi Bae Repository and Add-Ons from Kodi Bae Repo. Stream your shows with this amazing chosen Repo for a variety of Kodi Add-Ons.
Thanks for reading this post…
You may also like, How to Install Magic Dragon Add-On on Kodi.
For any Further Suggestions, share your reviews in the comments below…