Turn Off Voice On Samsung TV: Samsung TV is an intelligent TV brand used worldwide by many people. Samsung Smart TV is well known for its advanced features and modern facilities. One of such unique features is voice accessibility. The voice guide, also known as the voice assistant, is introduced to help visually impaired people, the elderly and the simply who might use the same. 
The voice assistant is an accessibility feature that describes or announces the page's actions, items and options. It tells you when you switch or any action on your device, such as switching between streaming services etc. The voice assistant gives users comprehensive information about the tab they are switching to. 
How to Turn Off Voice On Samsung TV?
You can quickly turn on and turn off voice on Samsung TV with the five easy methods,
Through Home on

Samsung Television

Using the

Samsung Television

 remote

Turn off voice

on old

Samsung Television

 models

Disabling Bixby on Samsung Smart Television

Disabling using voice commands
Turn off Voice through Home on Samsung TV.
Here are the steps to turn off voice guidance on your Samsung TV via the HOME settings. Follow the given below steps,
Step 1:
Go to HOME and navigate to the SETTINGS option
Step 2:
Scroll and select GENERAL and click on the ACCESSIBILITY option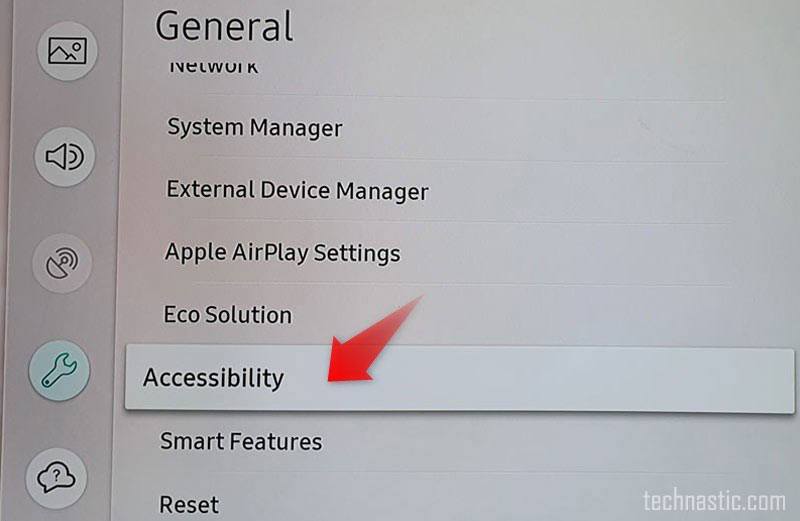 Step 3:
Now select VOICE GUIDE SETTINGS, click on VOICE GUIDE and turn it OFF
Also learn – How to Fix HBO Max Not Working on Samsung TV?
Turn off the Voice Using the Samsung TV Remote.
You can either go through the HOME option or directly use your remote buttons to access the voice settings. However, this feature is available only on specific features. Go through the following steps to use this method.
Step 1:
Hold the VOLUME button for an extended period, and the VOICE GUIDE option will pop up on your Samsung TV screen. 
Step 2:
Press the ENTER key or centre button to turn off the option. This way, you can easily Turn Off Voice On Samsung TV
Check your Samsung TV user manual if this step is not working on your Samsung Television model.
Turn off Voice Assistant on Old Samsung TV Models.
The voice assistant of the older versions of your Samsung Television can be turned off in one easy way. The usual way to Turn Off Voice On Samsung TV assistants on your older Samsung Television models (models released between 2008 and 2013) is given below. Follow these steps to do so,
Step 1:
Go to MENU and choose the SOUND or SOUND MODE option on your screen.
Step 2:
Select the BROADCAST option and navigate to choose AUDIO LANGUAGE
Step 3:
The screen will display ENGLISH AD if the audio description option is enabled. Please change it to ENGLISH which will disable the audio description. 
Also read – How to Change Input on Samsung TV in 7 Easy Ways?
Turn off Voice Description by Disabling Bixby on your Samsung TV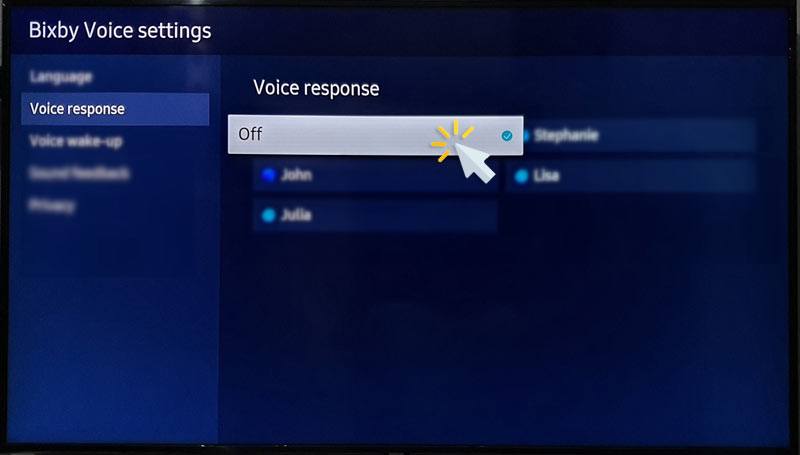 Disabling or turning off your Bixby on the Samsung Television can disable the voice description altogether. You can enable and disable audio descriptions on your Samsung smart TV based on the Samsung Television model. You can also disable or enable the audio description option on your Samsung Television by pressing and holding the MENU on your Samsung remote for a few seconds.
Turn off Voice Assistant with Voice Commands.
You can use the voice assistant feature to turn off voice guidance or the audio description on your Samsung Television. Here are the steps on how to do it,
Step 1:
Press the MICROPHONE button on your Samsung remote for a few seconds.
Step 2:
Say TURN OFF VOICE GUIDE as you hold on to the MICROPHONE button
Step 3:
Stop pressing or releasing the MICROPHONE button once you say the command. You can turn off the voice guide using the same voice guide.
Also read – How to Install Third Party Apps on LG Smart TV
Conclusion
If you still hear voice narration when you stream through the apps, though you turned off the voice guide on your Samsung Smart TV, it might be the audio description of the particular streaming service. Check the settings of the particular streaming app to Turn Off Voice On Samsung TV
In case of the voice guide of your Samsung Television doesn't turn off after all these steps, contact Samsung Customer support for further expert guidance. We hope you find this helpful article. Happy Watching!
Thank you!